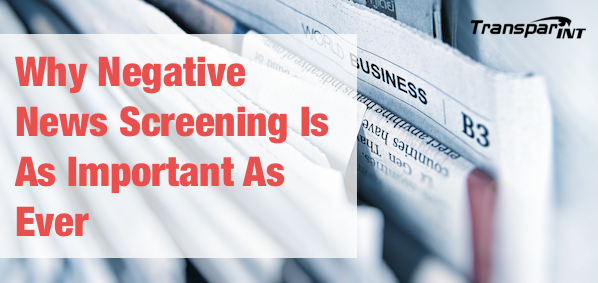 The pinnacle of a well-established AML program is its transaction monitoring program.
There are entire groups dedicated to reviewing transactions generated by these systems, groups dedicated to reviewing the initial reviews, groups optimizing scenarios and rules, groups auditing these scenarios, groups tasked with drafting policies and procedures, etc.  Transaction monitoring is an extremely important component of a financial institution's anti-money laundering ("AML") program.
What else is as important as transaction monitoring?  Negative news screening, also known as adverse media or derogatory media checks.  While financial institutions dedicate some resources to this necessary piece of an AML program, by no means does this aspect get the same resourcing as transaction monitoring reviews.  This blog piece will not define WHAT negative news is (that can be found here), but rather WHY it is so important.
The power of negative news
Negative news screening is a powerful tool for institutions to combat money launderers and other criminals from using their banking facilities.  An item of negative news – such as a local media article identifying suspicion of bribery – coupled with transactions, can result in a client's higher risk-rating, multiple SAR filings, or exit. Negative news can make seemingly innocuous transactions appear unusual or suspicious.
Adverse media is powerful enough to result in further actions taken against a client or counterparty, even without suspicious transactions.
Adverse media is basis enough for SAR filing or exit.  Negative news does not always have to pertain specifically to an accusation or conviction related to financial crime.  Reputational risk can be enough.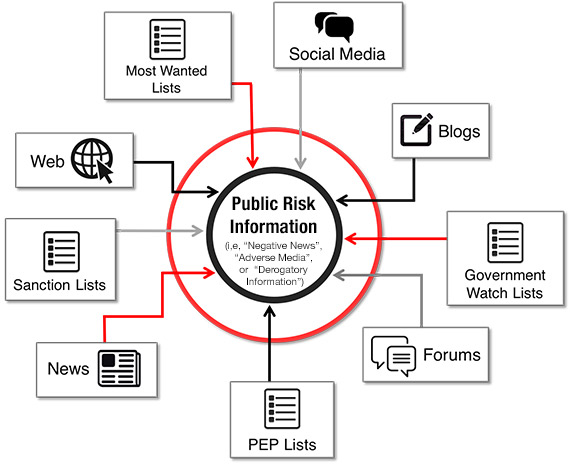 The requirement for on-going negative news screening
A one-time negative news screening check of an institution's client base may not be enough.  Many banks and financial institutions screen their medium to high-risk client base with higher frequencies.
Ongoing media monitoring is suggested by both the Wolfsberg Group and the Clearing House as components of  a continuing client risk review.  For banked marijuana businesses, FinCEN actually requires this.  For most institutions, they will be faced with the upcoming Ultimate Beneficial Ownership identification rule.  FinCEN's Customer Due Diligence Requirements for Financial Institutions final rule commentary indicates that "covered financial institutions should also develop risk-based procedures to determine whether and/or when additional screening of these names through, for example, negative media search programs, would be appropriate."
The need to invest in continued negative news screening is now more essential than ever.
Can this be done?
It's easy to monitor transactions in real time, or as close to real time as possible.
It's easy to conduct negative news searches on parties that have alerted in a transaction monitoring system or that have been identified as a party of interest either in the media or by law enforcement.
It's not easy to monitor clients or counterparties for negative news in real time.  Or is it?
Contact us today for a demo!