…Yep, you read that right!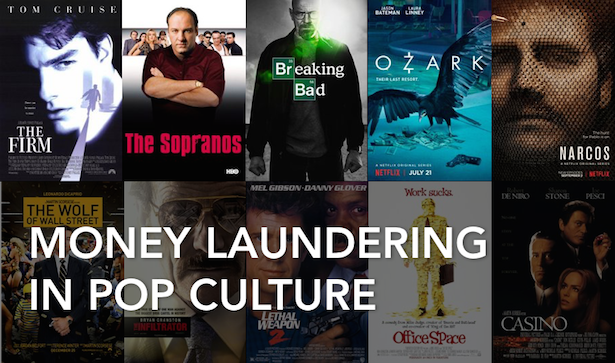 Money laundering is an important part of many Hollywood story lines. Whether it be through an original Netflix series, prime time television shows, or on the movie screen, there's now a plethora of financial crime-related media to watch.
What does this mean? Financial crime compliance and money laundering awareness is increasing. A show about drugs, the mob, or Wall Street would not be realistic without depicting the financial aspect. Viewers are introduced to what money laundering is, the criminal aspect of it, and the effort put in to combat it (both in the private and public sectors). Though the portrayal of financial crime may be a bit sensationalized for the big screen, the increased attention allows more viewers to learn about the importance of the roles of AML professionals.
So, whether you are looking for some new shows or movies to watch this holiday season or want to show Great Aunt Sally what you do for a living (she doesn't need to know you sit behind a desk all day taking screenshots), check these out:
Breaking Bad (2008-2013)
A high school chemistry teacher diagnosed with inoperable lung cancer turns to manufacturing and selling methamphetamine in order to secure his family's future. –IMDB
Ozark (2017-)
A Chicago-based financial advisor secretly relocates his family to the Missouri Ozarks when his dealings with a drug cartel go awry. –IMDB
Office Space (1999)
Three company workers who hate their jobs decide to rebel against their greedy boss. –IMDB
The Firm (1993)
A young lawyer joins a prestigious law firm only to discover that it has a sinister dark side. –IMDB

Casino (1995)
A tale of greed, deception, money, power, and murder occur between two best friends: a mafia enforcer and a casino executive, compete against each other over a gambling empire, and over a fast living and fast loving socialite –IMDB
Lethal Weapon 2 (1989)
Riggs and Murtaugh are on the trail of South African diplomats who are using their immunity to engage in criminal activities. –IMDB
The Sopranos (1999-2007)
New Jersey mob boss, Tony Soprano, deals with personal and professional issues in his home and business life, which affects his mental state and ends up seeking professional psychiatric counseling. –IMDB
Narcos (2015-)
A chronicled look at the criminal exploits of Colombian drug lord Pablo Escobar, as well as the many other drug kingpins who plagued the country through the years.  –IMDB
The Wolf of Wall Street (2013)
Based on the true story of Jordan Belfort, from his rise to a wealthy stock-broker living the high life to his fall involving crime, corruption and the federal government. –IMDB
The Infiltrator (2016)
A U.S. Customs official uncovers a money laundering scheme involving Colombian drug lord Pablo Escobar. –IMDB
Billions (2016-)
U.S. Attorney Chuck Rhoades goes after hedge fund king, Bobby "Axe" Axelrod in a battle between two powerful New York figures. –IMDB
Compliance (upcoming show on FX)
The half-hour series, currently titled "Compliance," will focus on the SEC compliance officer at powerful Wall Street firm. –Variety
Happy watching!