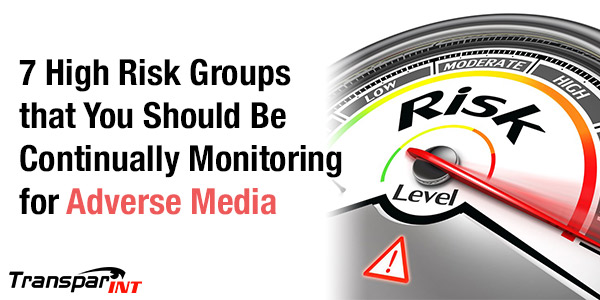 Financial institutions often maintain higher-risk client relationships.  As part of their risk management program, these business and individual relationships need to be constantly monitored for consistency in transactions and anticipated and expected activity.
One other component that financial institutions may want to consider for their high-risk client groups is continued monitoring for adverse media or negative news.   These clients may be subject to Enhanced Due Diligence searches on a yearly or every other year basis.  However, many groups may not be subject to any further due diligence, thus escaping additional negative news monitoring.  Financial institutions thus risk missing new negative news related to financial crime, terrorist financing, or reputational risk.
In order to ensure constant and consistent coverage, the below groups should be continually monitored for negative news:
1.    Higher risk clients due to industry, location, occupation, and/or products and services
2.    Correspondent banks, including their clients and their client's clients
3.    Private banking clients
4.    Third party vendors
5.    SAR suspects
6.    314(a) and 314(b) named parties
7.    Law enforcement inquiry subjects, such as subpoena parties, MLAT (Mutual Legal Assistance Treaty), FinCEN Exchange
Until recently, real-time monitoring of adverse media was not a realistic possibility. TransparINT Monitor now offers a way to passively (on the user's part) monitor these types of client groups for any new adverse media.