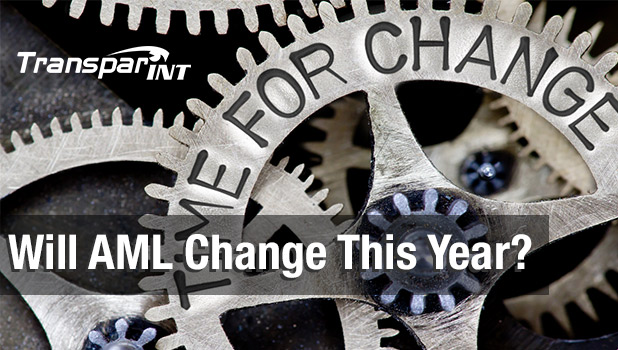 Wherever you look, you see reports about big changes coming to AML compliance with a particular fixation on Artificial Intelligence.
Those of us in AML wonder, "How soon will this all happen?" "How will it impact me?"  "Will I keep my job?"
Here is my view:
Change to AML is coming, but slowly.
Better software will discover more financial crime activity, not less.
More AML workers, not fewer, will be needed to handle the barrage of new suspicious activity better software will uncover.
AML Change Moves Slow
Over the past 15 years, AML has changed, but that change occurs very, very slowly.
Financial institutions are heavily regulated, making change at banks, broker-dealers, and MSBs, difficult.
Regulation forces banks to look, before leaping, at risk.  As a result, change – whether offering new products or investing in new AML software – moves slow.  This makes sense.  Remember, banks used to accept suitcases of cash, open accounts for dictators, and give mortgages to people with no incomes and no jobs.  Sometimes new rules are needed.
I've written about the slow pace of change in AML before.   Policy changes coming from Washington, DC and better software now requires AML to modernize. Much-needed changes are finally picking up speed.  They need to.
Current approaches to AML are unsustainable.  In 2018, as AML change accelerates we will see some banks move ahead and, many begin to fall behind.  As this separation happens, regulatory and enforcement risk increases. We have seen this scenario play out before.
Some Changes Coming in 2018
In 2018 we will see changes that improve efficiency and that expand research and monitoring requirements.  Incremental technology changes and new policy requirements will push AML step by step towards future adoption of Artificial Intelligence or "AI."
One such incremental technology change is "integrated platforms."
Since AML began nearly 20 years ago, analysts and investigators spend most of their time gathering information.  This work is monotonous, prone to omission, and really inefficient.  Integrated platforms promise to automatically gather much of the data investigators need, shaving the time it takes to complete alerts, investigate cases, and conduct EDD reviews.
New Beneficial Ownership rules in 2018 require deeper levels of due diligence, more documentation, and the need to continuously monitor customers to identify real-time events that trigger new risk. Just looking backward into a customer's history will no longer be enough.
With investigators spending less time on old manual work, more time digging into a customer's background, and implementing measures to monitor adverse media, AML marches steadily towards the adoption of intelligent machines.
Help Wanted: AML Investigators in 2018 and Beyond
The ultimate promise of AI is better transaction monitoring systems that will rid us of piles of false positives.  The related fear is that automated information gathering, coupled with smarter AI monitoring systems that reduce false positives, will reduce the number of overall alerts and cases generated.  As a result, fewer people are needed, and thus those of us in AML should be planning new careers.
I don't see it this way.  The theory that AI and automation will reduce AML work is wrong.  Here is why.
The theory is based on the premise that current monitoring and screening applications discover all suspicious AML transactions and KYC risk.   If we can reduce false positives and speed up manual data gathering, the number of AML staff and AML costs will plummet.
The problem is, the underlying premise is wrong!  Financial institutions now miss much more money laundering and financial crime risk than they identify. 
Criminals are smart and not constrained by rules and regulation. They adapt and move fast.  Each year there is more financial crime, more money laundering, and more ways to move money.
The United Nations says more than $2 trillion a year is laundered.  In every one of those transactions sits a financial institution, most with AML monitoring and screening software.
When AI improves detection capabilities, there will hopefully be fewer false positives and less manual and monotonous work. But when the clutter is finally cleared away, revealed will be much, much more suspicious activity.
And if AI works as intended, the increase of newly discovered suspicious activity will uncover more complex schemes that require skilled and experienced AML investigators.
So, if you are in AML, you don't need to worry about your profession shrinking.  A better bet is to get more experience investigating complicated and significant cases.  In the coming decade, that is where the work will be.   Are AML leaders contemplating this reality?